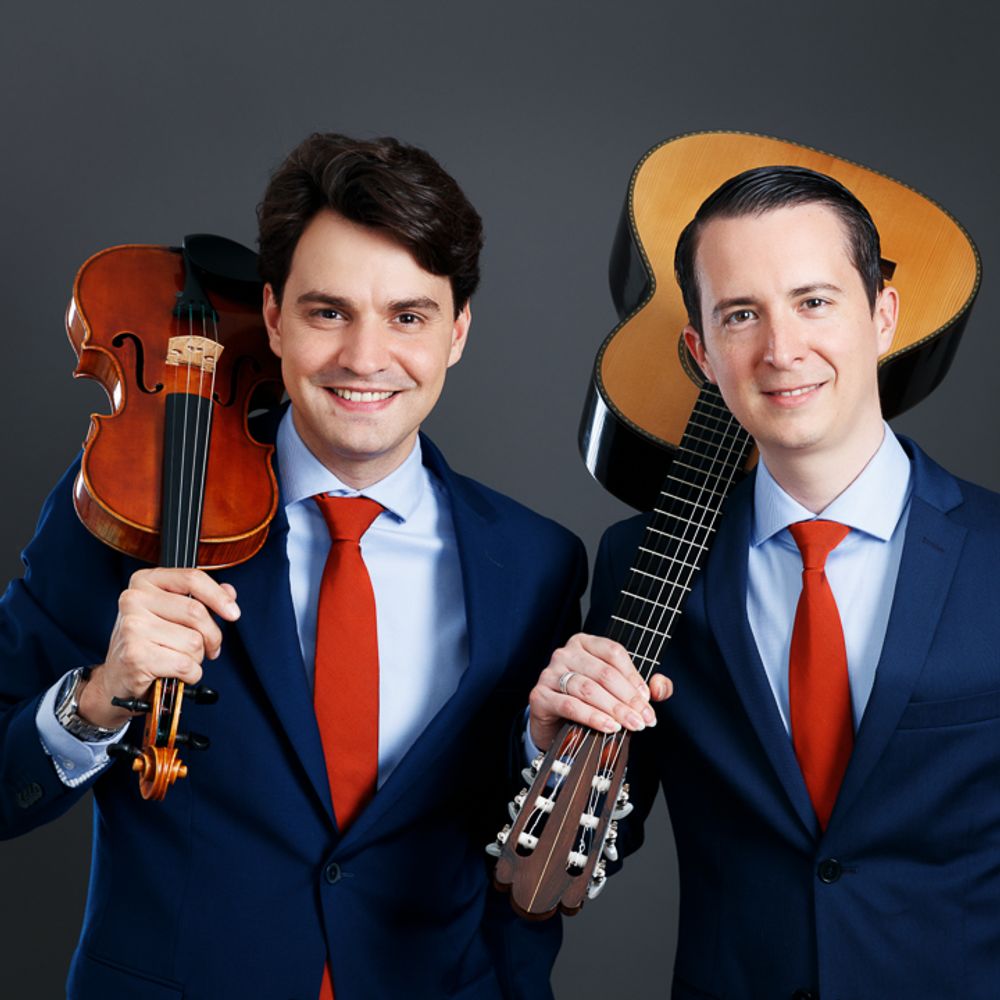 CRduo
CRduo is formed by the violinist André Robles Field and the guitarist Carlos Alberto Castro. These two Costa Rican musicians and lifelong friends play their own original concert arrangements of instrumental masterpieces in a virtuosic way.
Because of their cultural heritage, these two passionate instrumentalists feel a strong attraction to the music of Latin American and Spanish composers of the 20th and 21st centuries, but at the same time, the responsibility of interpreting it with the same commitment as the so-called "classical music". By means of their exclusive one-of-a-kind arrangements and their carefully selected repertoire, CRduo offers an intense emotional experience with touching music that seduces the ears of their listeners. 
Characterized by their almost telepathic synchronicity, their fascination with the sound blend and their unconditional engagement with the interpretation, Castro and Robles are willing to experiment new horizons in this duo formation. Their aim is to expand the repertoire for violin and guitar as well as to revolutionize the concept of a duo as an ultimate and comprehensive artistic collaboration. After many years of developing their musicianship and studying in Austrian and German conservatories, the idea of a new and fresh musical proposal began to take form...  
CRduo was founded in 2020 and their name is derived from the initials of their surnames —Castro & Robles— and their native country —Costa Rica—. 
ORIGINS 
Two lifelong friends from Costa Rica met again in Europe.  
CRduo was established in 2020 but their story began when they became friends over two decades ago, running around the hallways of the Escuela de Artes Musicales of the Universidad de Costa Rica, where they studied music as children and teenagers after school.  
CRduo is the story of two friends who admire each other and believe in each other's talent and singularity. As children they both dreamed of an international musical career and they are working hard for it. Despite living abroad, they still represent their identity as Costa Ricans living in Europe: their new home that offered them wider horizons for nourishing their art.  
André Robles Field began his musical development at the age of 5 at the Universidad de Costa Rica with his grandfather Walter Field, a living legend of the violin in Central America. From the very beginning André was a very gifted and talented violinist, who showed an innate (better said hereditary) naturality while performing very challenging works at a tender age. Despite many musical successes, he decided to study mechanical engineering instead of violin. That was a deep shock for Carlos and became a thorn in his side at that time.  
On his part, Carlos Alberto Castro began to play guitar at the age of 9 and already as a boy began to experiment with arranging and got used to thinking out-of-the-box concerning the guitar, always trying to pursue his personal convictions and beliefs. He studied Bachelor of Music at the Universidad de Costa Rica with Ramonet Rodríguez and in 2011 he reached his goal of studying guitar in Europe, accomplishing his Master of Arts at the Kunstuniversität Graz with the world-renowned teacher Paolo Pegoraro. Eventually, he remained in Austria where he married and nowadays he works as a guitar teacher at the J. G. Albrechtsberger Musikschule Klosterneuburg (Lower Austria). His premiere CD "Canto a la Vida" (2019) contains 6 world first recordings of guitar works dedicated to him. 
Immediately after his arrival in Austria in September 2011, Carlos constantly kept in contact with André and insistently encouraged him to follow his real dream. Absolutely convinced of the outstanding talent of his friend, Carlos finally persuaded André to become a musician. André has been the only person at all whom Carlos has recommended to make this serious decision. That was maybe the first step for CRduo to become a reality! 
After that brief mechanical engineering study and some clear signs of success in international music festivals and competitions, André finally moved to Germany in February 2012 to study violin, graduating as Bachelor of Music at the Musikhochschule Lübeck with Elisabeth Weber and Master of Music at the Universität der Künste Berlin with Axel Gerhardt. Nowadays he belongs to the first violins of the prestigious Deutsche Oper Berlin, one of the first-class orchestras in Germany.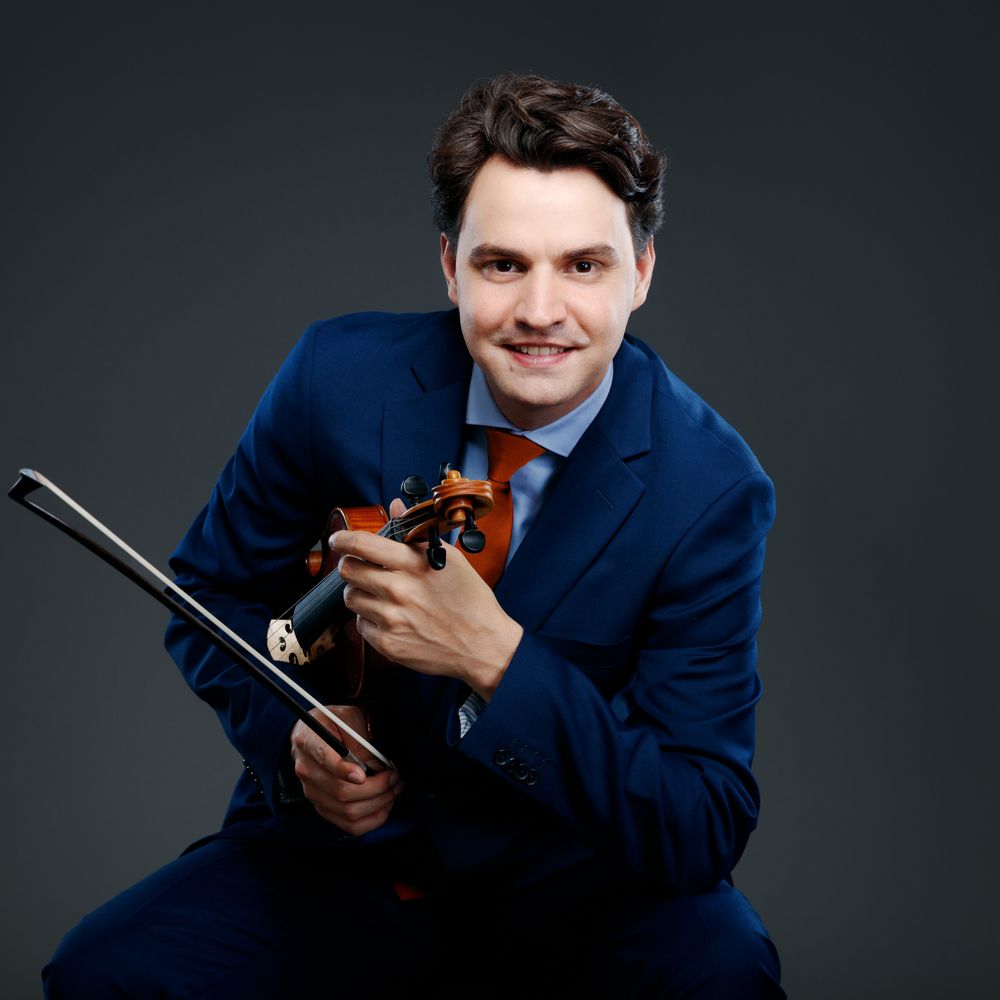 André Robles Field
Violinist
The Costa Rican violinist André Robles Field is member of the first violins of the Deutsche Oper Berlin since 2019 and was selected to play first violin in the orchestra of the Bayreuther Wagner Festspiele in 2022. He began his musical studies as a 5 year old at Escuela de Artes Musicales of the Universidad de Costa Rica under the tutelage of his grandfather, maestro Walter Field, the main pioneer of the violin in Central America.
He won his first competitions with the age of 9 and 12, which led to his orchestral debut with 13 years old acting as soloist with Lalo's Symphonie Espagnole. In 2008 he received a scholarship for the Interlochen Arts Summer Camp in Michigan, where he trained intensively in chamber and orchestral music. As a student he obtained orchestral experience in world class youth orchestras such as in World Youth Symphony Orchestra (2008) and twice in the Youth Orchestra of the Americas (YOA): the first time in 2011 and also in 2013 as principal of second violins. As an award of the Young Soloists competition —organized by the National Symphony Orchestra of Costa Rica—, he played Sarasate's Zigeunerweisen with that orchestra in 2011. He also won the first absolute prize of the Amigdala Competition in 2021.
In 2012 he moved to Germany to study his Bachelor of Music degree with the violinist Elisabeth Weber at Musikhochschule Lübeck, where he graduated with highest honors. During those years, he participated in orchestras such as Deutsch-Skandinavisches Jugendorchester (also as principal of second violins, after the recommendation of Leon Spierer, former BPO concertmaster) and Philharmonisches Orchester der Hansestadt Lübeck. 
He has lived since 2016 in Berlin, where he continued his Master of Music studies at the Universität der Künste Berlin with Professor Axel Gerhardt. He won the audition for a place at the Academy of the Deutsche Oper in Berlin in the 2017/2018 season and —after passing a second audition and the corresponding trial year— he deserved to become an official member of the first violins of the same orchestra at the end of the 2019/2020 season.
André is an extremely active chamber musician. He has performed at many festivals with different ensembles, including Metamorphosen Berlin, Brahms Festival, Tischlereikonzerte der Deutsche Oper Berlin, Kammermusik Campus Lübeck, at the  Palazzo Ricci European Academy in Montepulciano and the Belcanto Music Festival. Robles was part of MusikErkennen and Live Music Now concert cycle in northern Germany. He was recently invited as a jury for a violin competition in Kiel, Germany. He has also been invited as a soloist in different ensembles and orchestras in San Salvador, San José, Lübeck and Berlin.
André constantly receives musical inspiration in masterclasses with outstanding musicians such as Thomas Brandis, Donald Weilerstein, Saschko Gawriloff, Andras Keller, Eberhard Feltz and Dylana Jenson. Additionally, he gets musical impulses and artistic support from Heime Müller, Troels Svane and Ana Melkonyan.
He plays an instrument from the American violin maker Kurt Widenhouse.
Photo: Maria Frodl